BOOK 4 IN THE BACK UP SERIES
Trey Taylor was loving life. Bass player to the world famous rock band Devil's Lair, chicks falling to their knees at every turn, no one to be held accountable to for his actions…life rocked.
He had all he needed, food to sustain his body, sex to sustain his libido, rock to sustain his soul. For years he walked to the beat of his own drum, and made no excuses to anyone. Running and hiding can temporarily distract your fate, but it won't derail it. Fate was coming for him, whether he liked it or not.
His past was gaining ground and threatening all the secrets he desperately tried to hide. His present was slowing him down, making him feel emotions he buried years ago. The two are about to collide. Will Trey survive the impact?
buy links
amazon: http://goo.gl/tSMiZO
this is the 2nd release in the QUICK AND DIRTY series
How far would you go to please your lover?
Probably not as far as Stevie Sinclair and Gabe Shannon – who put it all on the table one Halloween night.
Be warned: Dirty Little Tricks is an explicit, hilarious, and ridiculously HOT and WILD ride.
Only 99cents until October 31st!
In this second book in the Quick and Dirty Series, beloved characters Stevie Sinclair and Gabe Shannon navigate through the ups and downs of their grown-up—albeit kinky—relationship.
And while Stevie's thoroughly enjoyed every mind-blowing sexperience with Gabe, she worries she's not enough to keep him satisfied for the long term.
So it's back to the drawing board for Stevie …
First stop?
Club Venus for the annual Halloween masquerade party.
What follows is one insanely hot and filthy night of mayhem where nobody is who they appear to be … ah, you get the idea.
Dirty Little Tricks is the seductive conclusion to Stevie and Gabe's story and the beginning for one lucky couple at Club Venus
buy links
.99 at the time of this posting
amazon: http://goo.gl/70UADI
b&n: http://goo.gl/EUtUCz
a KEEPER OF THE VEIL novel
A paranormal category romance from Entangled's Covet imprint…
The last thing he wanted was to fall for a witch…
Veterinarian Kat Ramsey hasn't a clue that she's a witch. Sure, she can read minds, and there's the whole "dimension-hopping" issue that she can't quite control, but Kat is determined to keep things normal. That is, until she accidentally hops into the Otherworld, and runs smack into Matthew Ryan―the seriously hot one-night stand from years ago who shoved her out of his dorm. Naked.
And there's the tiny matter of the curse she gave him.
May you never find satisfaction with another woman. Billionaire and former druid Matthew Ryan hasn't forgotten the curse, or the witch who gave it to him. Kat's unexpected return means the curse will finally be broken. Unfortunately, his libido has other ideas―like how to get her back into his bed one last time. But far more worrying is his suspicion that Kat is the seventh Pleiades witch. Because while he's turned his back on his druidic ways, he's still bound to protect the woman who made his life hell…

buy links
.99 at the time of posting
amazon: http://goo.gl/mNl0xq
b&n: http://goo.gl/QDODzx
the 4th release in the BLACK REBEL RIDERS MC series
I have traveled many roads, but riding the road to winning her heart is proving to be my greatest journey yet… "Nothing brings me so much pain and pleasure, like her mouth."
My name is Striker Black and this is my story…
Have you ever made a choice that changed everything? A decision that set off a chain of events that you could not control. Have you ever been torn between wishing to go back and change one night if it could repair all of the lives you ruined or being glad that it happened because it brought you, the most precious gift life had to offer?
As long as I can remember, I have sworn to protect her, to give her everything she ever needed. I waited so long for her to put her faith in me to trust in me to cherish her and I failed her. Letting down the one person who mattered most to me broke me, letting her go about nearly killed me.
<**>
Baby has loved and lost. Trying to pick up the pieces of her heart, she finds herself in the cross-hairs of a tangled mess. Can Baby forgive the past and open her heart to the man who has loved her since she was just a girl? How many times can a heart be wounded before it finally bleeds dry…
<**>
Romeo has always been loyal and one woman has always owned his heart. He is soon finding out that loyalty and love doesn't always go hand in hand. When a new threat arises Romeo learns the hard way, all is not fair on the road and between the sheets
buy links
amazon: http://goo.gl/Jv5sk8
b&N; http://goo.gl/0wLAuO
A satisfying category romance from Entangled's Lovestruck imprint…
He's designed for delicious trouble…
Interior designer Nikki Norris is at the end of her rope. She's lost her business, and her fiancé who called off their engagement. Now she's broke and on her own, living in a loft apartment she can barely afford. But something in her feng shui must be working, because her new neighbor across the hall is a sexy Brit fashion photographer…and he has just the thing to turn Nikki's bad luck around.
Dallas is tired of stick-thin fashion models with no personality. So when his curvaceous new neighbor, Nikki, seeks his help in making her ex jealous, Dallas is only too happy to oblige the woman who sets his libido on fire every time she walks into a room. Dallas, not being one to make commitments, thinks all he wants is a little taste of Nikki. But will it be enough?
Just as Nikki and Dallas hatch their plan, the wicked chemistry between them—growing more irresistible by the second—complicates things. Now the lines between make-believe and making love blur. Have Nikki and Dallas found a perfect arrangement… or have they designed the perfect plan for disaster?
buy links
.99 at the time of posting
amazon: http://goo.gl/Uo1Soi
b&n: http://goo.gl/Dqx2nC
"I take cocky, rich boys like you and teach them how to make love to women until they're barely able to mutter a word. Completely and utterly blissed. That's really what separates the men from the boys, Mr. Kingsley. Sex as an art form versus f**king for a release." – Kathryn.
Amazon Top 100 Bestselling Series. In Adam's Point of View.
Adam Kingsley reigns as the young prince of Manhattan, and the envy of Wall Street. Women swoon at his feet, money is no object, and his killer good looks are as wicked as sin. A dangerous trifecta that allows him to possess anything or anyone he desires.
Kathryn Delcour is an alluring socialite with unique erotic tastes. When she suddenly appears on the New York City social scene, Adam finds this complex woman too tempting to resist. He will stop at nothing to have her, yet she is warned to stay away from him and his player ways.
The lure of ancient sexual practices and a former business partner seeking a deadly revenge mix together in this erotic bestselling series filled with secrets, seduction, and suspense.
Eroticism. Love. Redemption. Touch of Tantra is a perfect erotic mix…

buy links
amazon: http://goo.gl/JqamQc
b&n: http://goo.gl/xRGb0o
the 4th release in the CURSED series
Change, simple for some, life altering for others.
Steve Zotto made a drastic decision in his life, one that was meant to create a fresh start. After years of addiction, he finally realized that the life he was living was either going to kill him or someone else. Too many painful memories cursed him, pulled him away from his family and destroyed everything he had….including the love of his life.
He was willing to become a new man, a good son and a faithful husband….but was it too late?
The day he chose to move on was the day fate took over. Dealing with the events that lead him to were he now was he found that there was only one person that could make him whole. During his struggles he found help in his art, the ink that burned an inspiring message into the flesh of his clients.
His life was changing, he was changing and the future he was longing for was now a vision worth reaching for.
No longer will the curse of his past haunt him, fate has played its hand and he's found himself all in.
buy links
amazon: http://goo.gl/fvzROJ
b&n: http://goo.gl/xOhOMg
SERVE novel # 2
He'll train her to lure another man. She'll lure him instead.
When interior designer Eliza Ballas accompanies a friend to New York's premier BDSM club, she's taken aback by the sheer want that overruns her body—especially when a sexy Brit assumes Eliza is adept at dark, sensual arts. If she's going to play, she'll need an erotic education, and she knows just the man to teach her how to submit…
Oliver Preston isn't one to turn down pleasure, but Eliza's his sister's best friend, and he's torn between a sense of duty and his rock-hard need to find out if she tastes as delicious as he's dreamed. Unable to handle thought of another man owning her body, he draws Eliza deep into his world of exquisite pain and pleasure.  He has three lessons to instruct her. Three lessons to drive them both to the brink of ecstasy. And three lessons before he must give her to another man…if he doesn't lose himself first.
buy links
amazon: http://goo.gl/TYA9BS
b&n: http://goo.gl/92thTH
books 0.5 and 2.5 in the series
Friends:
One moment.
One wrong choice.
That was all it took to destroy a friendship.
*takes place before Sempre*

Forever:
Halloween.
With a three year old.
'Nuff said.
*takes place after Sempre: Redemption*
buy links
free
amazon: http://goo.gl/q5aYpI
Corrado Moretti.
The world knows the notorious Kevlar Killer, but few have ever seen what lies beneath his armor. The abused child. The neglected teenager. The broken man. He always did whatever he had to do in order to survive.
It's kill or be killed.
Throughout his life, he has been there in the shadows, a witness to everything from beginning to end. Bound by loyalty and honor, there's only one thing he would sacrifice it all for: family.
Never get close. Never get attached. It's a lesson that has been brutally pounded into him since childhood, but they're words the DeMarcos make it difficult for him to follow. Through them he finds love and grieves loss, realizing the world isn't quite as black and white as it's made out to be.
Made.

buy links
amazon: http://goo.gl/tudhfK
b&n: http://goo.gl/o2vEsJ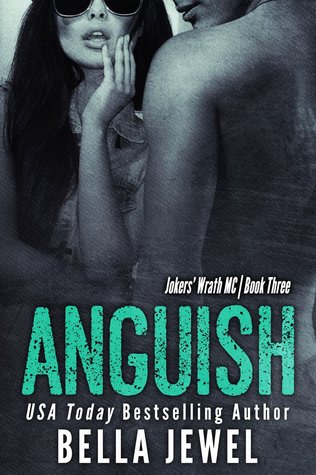 3rd release in the JOKERS' WRATH MC series
There are a lot of things in this world that are easy to escape from. Having a son you didn't ask for isn't one of them.
Mack is a nomad. He likes his own space and he struggles with emotion. His past is grey and his future looks about the same. That is until his ex-girlfriend dies and his son is handed over to him. A two month old baby he didn't know existed. Until now.
His world comes crashing down around him.
Desperate, he hires a nanny.
Jaylah has gotten herself into some serious trouble, so when she sees the job opening for a nanny pop up, she jumps on it. Of course she's not a nanny, but she figures she can pull it off. I mean, how hard can it be?
She's thrown into a world of diapers, hourly feedings and a whole lot of laundry. She's also introduced to the most rugged, gorgeous man she's ever had the pleasure of meeting.
The best part, he's the baby's father.
The worst part, he's a biker.
Their sexual tension is huge, but he's a hard nut to crack. She'll get in, though. She makes it her mission to break through the wall Mack has built so high around himself.
Her world is about to spiral out of control, and she's taking Mack along for the ride.
buy links
.99 at the time of posting (amazon only)
amazon: http://goo.gl/2ZTdtV
b&n: http://goo.gl/mUawR0
OBSESSION book series #2
Life couldn't get any more complicated for Rick. He's going through adolescence and coming to terms with his sexuality, which he hides from his parents.
Meet Mr Devereaux, Rick's PE and French teacher who Rick can't stop thinking about. To complicate matters even more, Mr Devereaux is married to the principal of the same school.
As Rick comes to terms with being a young homosexual man, he fantasises about what it would be like to be with an older man. After sneaking into his teacher's office and almost getting caught out, Rick realises that his fantasies and urges are beginning to take over his life.
One night, at dinner, Rick's father comes home and reveals some news that sends shockwaves through Rick. His father has just received a promotion at work and has been offered to relocate to London, England for one year, with all expenses paid.
Moving to London would mean that Rick would be away from his friends and Mr Devereaux and ultimately, he tries to convince his father to allow him to stay in Australia and live with relatives while he and his mother move to London. His father refuses, leaving Rick no choice but to pack up his life and go with them.
When they arrive in London things are far from easy for Rick. After finally settling into a new English school, Rick makes some new friends including Nate, who is openly gay. Together Nate and his friends convince Rick to go to the local bar. There he meets Jared, the owner of the bar, who is drop dead gorgeous, gay and he happens to be an older man.
Rick starts spending a lot of time at the bar on weekends with his new friends, and soon, sparks fly between Jared and Rick. With Mr Devereaux on the other side of the world, Rick has finally found another older man who happens to be gay, but is he the older man that he wants?
Rick's temporary life in London is cut short when he suddenly becomes seriously ill and must return to Australia to make a full recovery before he can return back to school. However, it takes Rick longer than anticipated to recover from his illness and unfortunately, having missed out on too much school, he must repeat Year 10 when he fully recovers, making him the oldest student in his class.
Will Rick finally have a chance with Mr Devereaux?
Temptation is the second book in The Obsession Series and a prequel to Obsession.
buy links
amazon: http://goo.gl/YoERp8
b&n: http://goo.gl/6LHX4C