SPIN by C.D. Reiss is on sale until
Tuesday
! Grab it now and meet the Capo! Be sure to pre-order RUIN which releases 10/14!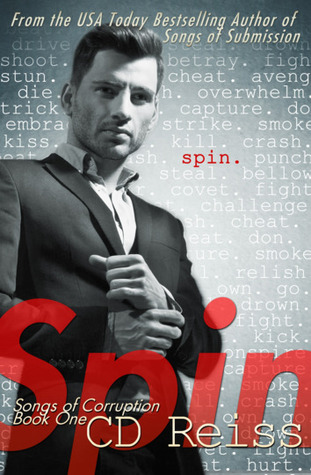 Mafia capo, Antonio Spinelli blew through my orderly life like a cyclone.
Gorgeous and passionate, with a breathtaking brutality, he put me under his spell the moment he touched me, drawing me into his underworld of risk, violence and betrayal.
And I found, just as this sophisticated savage didn't trust me, I didn't trust myself. Something happened to me. Some alchemy from the heat between us.
I discovered I was a savage, too.
**Ya gotta read Spin before you read Ruin**
Antonio is a killer.
He's beautiful, educated, a prodigy of a thief and as violent a motherfucker as ever came of the boat from Napoli.
Theresa knows it, but that doesn't stop her from getting emotionally and physically entangled with him, and this is how, maybe, she got it in her head that she can protect him.
But it's not her job to save him, and she's just not getting that. Every time she tries to protect him, she practically gets him killed, and the tighter he grips her, the more dangerous she becomes.
It's almost as if…well, he'd never admit this….but it's almost as if protecting her the way he does is the one thing he should stop. As if the only way he's ever going to find a moment's peace is to just embrace her as a partner, rather than a defenseless creature.
But he'd never do that. Not this violent motherfucker.
WARNING: This book contains delicious sex scenes with a hot man dirty-talking in Italian; women handling firearms and explosives; and scenes of violence with a crystal Virgin Mary cigarette lighter.