He wants answers.
She wants freedom.
The search is over…when they Conspire.
BUY LINKS
AMAZON: http://www.amazon.com/Conspire-Erin-Noelle/dp/1500859591/ref=sr_1_1?ie=UTF8&qid=1409049882&sr=8-1&keywords=CONSPIRE+SE+HALL
For political reporter Liz Dougherty, election day—a day of looking toward the future and saying goodbye to the past—seems like a fitting time to start a new relationship. But feelings for her former flame still linger…
The sexy second book in bestselling author K.A. Linde's Record series decides whether it's better to pick up the pieces and move on…or to pick up right where you left off.
BUY LINKS
AMAZON: http://www.amazon.com/On-Record-The-Series-Book/dp/1477823883/ref=sr_1_1?ie=UTF8&qid=1409050204&sr=8-1&keywords=ON+THE+RECORD+KA+LINDE
BARNES AND NOBLE: http://www.barnesandnoble.com/w/on-the-record-k-a-linde/1118717428?ean=9781477823880
Madoc and Fallon. Two estranged teenagers playing games that push the boundaries between love and war…
She's back.
For the two years she's been away at boarding school, there was no word from her. Back when we lived in the same house, she used to cut me down during the day and then leave her door open for me at night.
I was stupid then, but now I'm ready to beat her at her own game…
I'm back.
Two years and I can tell he still wants me, even if he acts like he's better than me.
But I won't be scared away. Or pushed down. I'll call his bluff and fight back. That's what he wants, right? As long as I keep my guard up, he'll never know how much he affects me…
BUY LINKS
AMAZON: http://www.amazon.com/Rival-Fall-Away-Novel-Series/dp/045147242X/ref=sr_1_1?ie=UTF8&qid=1409050425&sr=8-1&keywords=RIVAL+PENELOPE+DOUGLAS
BARNES AND NOBLE: http://www.barnesandnoble.com/w/rival-penelope-douglas/1118930887?ean=9780451472427
Luke Jackson.
With his thick southern drawl and seductive charm, Luke is the country boy everyone adores. He has his future mapped out, but his plans with Olivia are suddenly derailed when she makes a decision that blindsides him, changing the path they both envisioned.
As Luke struggles to keep everything in check during a difficult time in his life, he must put his trust in the one person who broke it to begin with. The last time they saw each other, Olivia busted his heart wide open, turning him into the man he is today.
When Olivia returns to her roots, just like Luke said she would, he is shocked for more reasons than one. Nine years have passed since they've seen each other, and when their roads collide unexpectedly, Luke can only push his worry and misgivings away for so long.
Things are different now—they are strangers—and the rope that once bound Olivia's heart to South Fork, Georgia is pulling her back in, forcing her to remember how it used to be all those years ago.
BUY LINKS
AMAZON: http://www.amazon.com/Youll-Think-Me-Lucia-Franco-ebook/dp/B00MSSTC56/ref=sr_1_1?ie=UTF8&qid=1409050528&sr=8-1&keywords=YOULL+THINK+OF+ME+LUCIA+FRANCO
It's Time To Meet A New Kind Of Hero…
Dante Stark has a dark secret–a legacy left to him by his father which is both a blessing and a curse. A traumatic experience as a small boy gave him special powers of healing, but it comes with a price. Destined to wander the world alone to heal others, he's accepted his fate. Until Selina Rogers forces him to confront his deepest fears, erotic desires, and question his capacity to love.
Selina Rogers has made a name for herself at Inferno Enterprises. She's tough, confident and prepared to succeed. She's also built a world she believes is safe, until she's attacked and then saved by a masked stranger. As he helps her heal physically and emotionally, she becomes fascinated by his overwhelming power and gentle touch. Determined to show Dante the love he's been denying himself, Selina surrenders her heart, and dreams of a future with the mysterious man who completes her.
But will his dark legacy destroy them…or save them both
BUY LINKS
AMAZON: http://www.amazon.com/Dantes-Fire-Jennifer-Probst/dp/162125190X/ref=sr_1_1?ie=UTF8&qid=1409050752&sr=8-1&keywords=DANTE%27S+FIRE
BARNES AND NOBLE: http://www.barnesandnoble.com/w/dantes-fire-jennifer-probst/1120169563?ean=9781621251903
Nadia Conrad has big dreams, and she's determined to make them come true—for her parents' sake as well as her own. But between maintaining her college scholarship and working at the local day care to support herself, she barely has time to think, let alone date. Then she moves into a new apartment and meets the taciturn yet irresistible guy in 1B….
Daniel Tyler has grown up too fast. Becoming a single dad at twenty turned his life upside down—and brought him heartache he can't risk again. Now, as he raises his four-year-old son while balancing a full-time construction management job and night classes, a social life is out of the question. The last thing he wants is for four noisy students to move into the apartment upstairs. But one night, Nadia's and Ty's paths cross, and soon they can't stay away from each other.
The timing is all wrong—but love happens when it happens. And you can't know what you truly need until you stand to lose it
BUY LINKS
AMAZON: http://www.amazon.com/Want-That-Way-Ann-Aguirre/dp/0373779836/ref=sr_1_1?ie=UTF8&qid=1409050930&sr=8-1&keywords=I+WANT+IT+THAT+WAY
BARNES AND NOBLE: http://www.barnesandnoble.com/w/i-want-it-that-way-ann-aguirre/1118851628?ean=9780373779833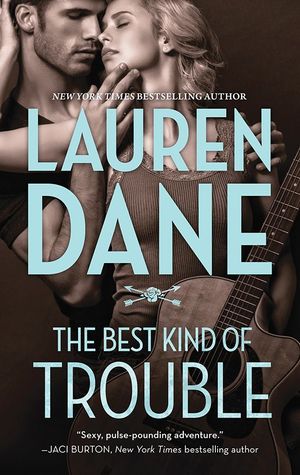 She has complete control… and he's determined to take it away
A librarian in the small town of Hood River, Natalie Clayton's world is very nearly perfect. After a turbulent childhood and her once-wild ways, life is now under control. But trouble has a way of turning up unexpectedly—especially in the tall, charismatically sexy form of Paddy Hurley….
And Paddy is the kind of trouble that Natalie has a taste for.
Even after years of the rock and roll lifestyle, Paddy never forgot the two wickedly hot weeks he once shared with Natalie. Now he wants more… even if it means tempting Natalie and her iron-grip control. But there's a fine line between well-behaved and misbehaved—and the only compromise is between the sheets!
BUY LINKS
AMAZON: http://www.amazon.com/The-Best-Kind-Trouble-Hqn/dp/0373779348/ref=sr_1_1?ie=UTF8&qid=1409051101&sr=8-1&keywords=THE+BEST+KIND+OF+TROUBLE
BARNES AND NOBLE: http://www.barnesandnoble.com/w/the-best-kind-of-trouble-lauren-dane/1117716200?ean=9780373779345
Ex-Marine Crowe Callahan has only had one obsession in life: Amelia Sorenson. She is the only one who has ever gotten under his skin. However, she is also the daughter of his family's sworn enemy; a man who has sought to destroy the Callahan's for generations in order to further his own nefarious agenda. When Amelia put herself on Crowe's side and in Crowe's bed, she became her father's enemy as well. When Wayne Sorenson escapes capture both Amelia and Crowe know it is only a matter of time before he resurfaces to exact his revenge. Now Crowe will claim Amelia in order to bait a killer and end things once and for all. But can he protect the woman he can't seem to live without from one of the deadliest enemies he has ever know? And will he survive it if he can't?
BUY LINKS
AMAZON: http://www.amazon.com/Ultimate-Sins-Callahans-Lora-Leigh/dp/0312389108/ref=sr_1_1?ie=UTF8&qid=1409051282&sr=8-1&keywords=ULTIMATE+SINS
BARNES AND NOBLE: http://www.barnesandnoble.com/w/ultimate-sins-lora-leigh/1113823974?ean=9780312389109
Maxwell Jameson Trevor, prince of Lilaria, hates his royal role. Despising the limelight, he takes solace in his art studio and steers clear of any drama. But when one of the newly discovered royals passes away, Maxwell's brother Alex asks him to break the news to the old man's granddaughter. Though he hates to be the bearer of doom and gloom, he doesn't want the poor girl to find out from the tabloids. For Maxwell knows all too well how devastating that could be.
Coming from a broken home and modest background, newly ordained Lady Meredith Thysmer has seized her chance to make a better life for herself and her son. She's not afraid to use her best assets to get what she wants. But when the unpretentious yet devastatingly handsome Max delivers his news, her plans for the future come crashing to a halt. In the challenging days ahead, Max's compassion, humor, and steadfast loyalty to Meredith and her son win her over. She quickly finds herself doing something she swore would never happen again: falling in love. And yet Maxwell still refuses to completely drop his guard. Somehow Meredith's got to find a way to seduce this reluctant royal.
BUY LINKS
AMAZON: http://www.amazon.com/Reluctantly-Royal-Nichole-Chase/dp/0062317490/ref=sr_1_1?ie=UTF8&qid=1409051439&sr=8-1&keywords=RELUCTANTLY+ROYAL
BARNES AND NOBLE: http://www.barnesandnoble.com/w/reluctantly-royal-nichole-chase/1117542224?ean=9780062317490