Alec (SLATERS BROTHERS #2)  by LA Casey releases tomorrow but did you know that you can pick up the first two books in  the series for just .99 each.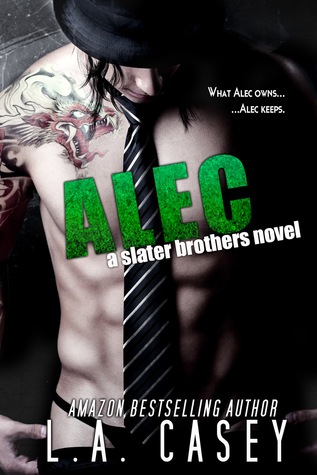 Keela Daley is the black sheep of her family. She has always come second to her younger cousin Micah. Even in the eyes of her mother, Micah shone bright, and Keela faded to black. Now, in adulthood, Micah is a bride-to-be and the spotlight is solely on her. Keela is a low priority…or so she thinks.
Alec Slater is a bachelor, never one to bed the same woman, or man, twice. He is a free agent who does what he pleases and answers to no one; that is until a fiery Irish redhead with a temper to match her hair colour knocks him on his arse. Literally.
She hates to admit it, but Keela needs a favour from the cocky Slater brother, a huge favour. She needs him to not only escort her to Micah's wedding, but to also pose as her boyfriend. Alec agrees to help Keela, but has certain conditions for her to abide by. He wants her body and plans to have it before anyone can say I do.
What he doesn't plan on is losing his heart as well as the possibility of losing his family when someone from his past threatens his future.
Alec owns Keela, and what Alec owns, Alec keeps.
DOMINIC
BOOK 1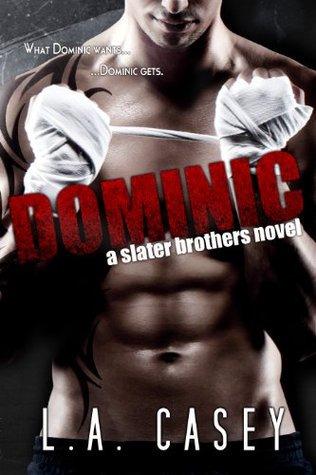 WARNING: If you don't like a leading male that is a possessive pr**k, Dominic is NOT for you. If you don't like a leading female that is a stubborn bi**h, Dominic is NOTfor you. If you don't like over the top drama and characters who have bad tempers, Dominic is NOT for you. Most of all, if you don't like characters who CURSE A LOT and sayEXACTLY what they feel and are thinking without sugar coating it then Dominic is REALLY NOT for you.
**************************************
After a car accident killed her parents when she was a child, Bronagh Murphy chose to box herself off from people in an effort to keep herself from future hurt. If she doesn't befriend people, talk to them or acknowledge them in any way they leave her alone just like she wants.
When Dominic Slater enters her life, ignoring him is all she has to do to get his attention. Dominic is used to attention, and when he and his brothers move to Dublin, Ireland for family business, he gets nothing but attention. Attention from everyone except the beautiful brunette with a sharp tongue.
Dominic wants Bronagh and the only way he can get to her, is by dragging her from the boxed off corner she has herself trapped in the only way he knows how…by force.
Dominic wants her, and what Dominic wants, Dominic gets.
BUY LINKS
.99
AMAZON: http://www.amazon.com/Dominic-Slater-Brothers-L-Casey-ebook/dp/B00J1SP9FI/ref=sr_1_sc_1?ie=UTF8&qid=1408230257&sr=8-1-spell&keywords=la+caseyDOMINIC
BOOK 1.5
Bronagh Murphy has been through a lot over the past few years, a hell of a lot, so when her 21st birthday rolls around all she wants to do is relax and spend the day with her family. Quietly.
Her boyfriend, Dominic Slater, doesn't do relaxed or quiet. He never has, and he never will. He plans out a day for Bronagh that is both romantic, and exciting. However, Dominic's version of exciting is very different to Bronagh's as she will soon find out.
When things take a turn for the worst, and a bad altercation leaves Dominic once again fighting for his girl, Bronagh will have to decide once and for all if she will fight in Dominic's corner or walk away and never look back.
Bronagh loves Dominic, and what Bronagh loves, Bronagh protects.
BUY LINKS
.99
AMAZON: http://www.amazon.com/Bronagh-Slater-Brothers-1-5-Casey-ebook/dp/B00MQMWX2I/ref=sr_1_1?ie=UTF8&qid=1408230400&sr=8-1&keywords=la+casey+BRONAGH
***************
COMING SOON
*KANE (#3)
*RYDER (#4)
*DAMIEN (#5)
*THE SLATERS BROTHERS (#6)