Dead Heat Ranch Novella, #0.5
Note: This novella was previously published in the Some Like It Hot Anthology. Although the story has not changed, this version contains a short bonus scene.
New York Times bestselling author Nicole Edwards is heating things up with Boots Optional, a sexy new ménage novella which is the first book in a hot new series called Dead Heat Ranch.
Grace Lambert is familiar with hard work, long days, and handsome cowboys. She's been working for her family's dude ranch since she was old enough to ride a horse and she's not afraid to get her hands dirty. What she is afraid of is the heat that's been generating between her and not one, but two sexy cowboys who've set their sights on her. And each other.
Grant Kingsley and Lane Miller have both had their eyes on Gracie for years, but the feisty cowgirl has managed to keep them at bay. As far as they are concerned, cowboys don't give up, and neither of them is ready to give up just yet. Not on her and not on the heat that transpires between the two of them.
Find out what happens when the sultry Texas nights get as hot as the fierce Texas days.
BUY LINKS
AMAZON: http://www.amazon.com/Boots-Optional-Dead-Heat-Ranch-ebook/dp/B00L8BMUZS/ref=sr_1_1?ie=UTF8&qid=1406020533&sr=8-1&keywords=boots+optional+nicole+edwards
BARNES AND NOBLE: http://www.barnesandnoble.com/w/books/1119983631?ean=2940149684915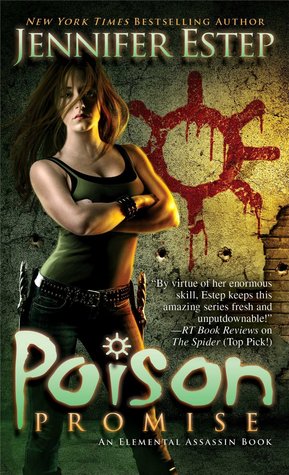 In book eleven of her New York Times bestselling Elemental Assassin series, author Jennifer Estep continues "one of the best urban fantasy series going on the market" (Fresh Fiction).
Gin Blanco is hard-nosed, sexy, and lethal. Nicknamed "The Spider," she's a stone elemental assassin who brings her unique mix of magic and tact to every assignment, no matter the target.
There's a new drug on the streets of Ashland, and its name "Burn" sums up the potent effect it has on its users. When one of her restaurant employees is threatened by dealers of the drug, Gin steps in to set things straight…
BUY LINKS
AMAZON: http://www.amazon.com/Poison-Promise-Elemental-Assassin-Book-ebook/dp/B00GEEB23K/ref=sr_1_1?ie=UTF8&qid=1406020808&sr=8-1&keywords=poison+promise
BARNES AND NOBLE: http://www.barnesandnoble.com/w/poison-promise-jennifer-estep/1117313566?ean=9781476771502
Certain men.
Certain professions.
Some things are just universally SEXY.
But maybe not quite this sexy-
"You've been expecting this."
BUY LINKS
AMAZON: LINKS COMING SOON