UNTIL WE FLY Synopsis:
Ex-Army Ranger, Brand Killien, has always been good.
A good friend, a good soldier, a good everything. .
The problem is, good hasn't gotten him anything but a crushed heart.
So after licking his wounds, he decides to move on.  And moving on doesn't include being good anymore.
Bad sounds so much better.
Jaded and detached, Brand is determined to never open himself up to anyone again.  It's not worth the pain.  Instead, he becomes closed, hardened, aloof.
But then he's called back home for a family emergency… a family that he is estranged from.  A family that he put out of his mind a long time ago for very good reasons…reasons that involve secrets and pain.  Reasons he tried hard to forget.
But home is where the heart is, and it just might be where Brand finds his again.
Why?  Because home is where Nora Greene is.  A fiery, red-headed spitfire, Nora is a thing from his past.  A beautiful, feisty thing.  When Brand left, she was away at boarding school.
But she's back now.
And she wants Brand, scars and all.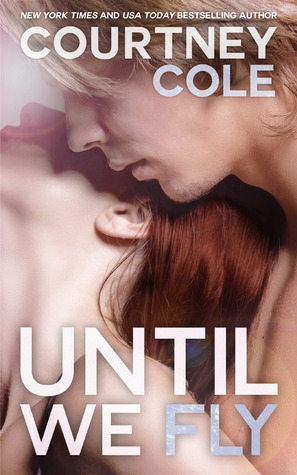 MY REVIEW
Courtney Cole can do no wrong in my eyes.  Each and every one of her books are pictures of perfection.  She somehow manages to create stories full of emotion that combine with angst, drama, amazing plots, and sexy scenes that cause you to fall in love with her characters over and over again.  Until We Fly is no exception.  I knew from page one that this book was going to be absolutely amazing . This is Brand and Nora's story and it is absolute bliss.  I loved the sweet gentle side of Brand but when his heart is broken and he decides to embrace his bad side.  Watch out!  Bad Brand will make you love him even more.  Bad Brand is even sexier.  But Brand is living with a load off emotional pain that has caused him to hide his heart behind a wall so that he doesn't get hurt again.  When Brand meets Nora that carefully constructed wall comes crashing down.  And Brand finds himself putting his vulnerable heart at risk again.  Brand and Nora could very well be my favorite two characters from this series and that is saying a lot.  There is something about the two of them that made me, the reader, feel very protective of this pair.  Nora is fire and sparks.  She is lively, strong, opinionated and wants Brand.  She is exactly what Brand needs to heal.  When unfortunate circumstances cause their paths to meet again after a long absence they find themselves unable to ignore the white hot attraction between them.  Being a Courtney Cole book, of course there is going to be lots of drama and angst, but that makes getting to the end so much more worth it.  Until We Fly broke my heart, made me laugh, made me cry, made me fall in love and made me never want this book to end.  Courtney is a poet with the written word and this book is a prime example of that.
A big old 5 out of 5 stars.
And don't miss the other Beautifully Broken, now available:
Praise for the Beautifully Broken Series:
"I loved If You Stay. Like, really really loved it. The kind of love that kept me reading until 2:40 am and left me crying, smiling, devastated, and elated. The best kind of book love." – Andrea, The Bookish Babe
"Beautiful, raw, gritty, emotional and breath-taking are just a few of the words I can find to describe this book…reading this book was one of the best experiences I have had." –Amanda, Globug and Hootie Need a Book
"In If You Leave, we continue the wild ride Courtney Cole started us on in If You Stay. This raw story of heartbreak and hope solidifies Cole's standing as a rising star in hot contemporary romance." — New York Times Bestselling author of Down to You, M. Leighton
"Another raw, gritty masterpiece with a sexy-as-hell Army Ranger to swoon over." — K.A. Tucker, author of Ten Tiny Breaths
ABOUT COURTNEY COLE:
Courtney Cole is a novelist who would eat mythology for breakfast if she could. She has a degree in Business, but has since discovered that corporate America is not nearly as fun to live in as fictional worlds. She loves chocolate and roller coasters and hates waiting and rude people.
Courtney lives in quiet suburbia, close to Lake Michigan, with her real-life Prince Charming, her ornery kids (there is a small chance that they get their orneriness from their mother) and a small domestic zoo.
Links:
Website | Facebook | Twitter | Newsletter SignUp | Pinterest
GIVEAWAY
 Courtney is giving away 2 signed sets of IF YOU STAY, IF YOU LEAVE and UNTIL WE FALL for two winners!
http://www.rafflecopter.com/rafl/display/9172c1172/
@Court_Writes
@InkSlingerPR