Part of Invitation to Eden 
After ending a relationship to a cheating, domineering man, Isabelle Masters takes off in her leased Mercedes, only to be arrested for grand theft and hauled to a local police station. To her surprise, she is rescued by the most unlikely person possible, Gabriel Dare, a man she's been attracted to for far too long. Gabe offers Isabelle freedom along with an invitation to Eden, an exclusive island resort where everything and anything is possible.
Although Gabe yearns to possess Isabelle, he knows all too well he must fight his primitive need to bind her to him, and instead help bring out the independent woman she yearns to become – or risk losing her for good.
A woman who needs to run her own life. A man who needs to exert control. Can she surrender to his erotic demands without losing her sense of self once more?
BUY LINKS
AMAZON: http://www.amazon.com/Dare-Surrender-Invitation-Eden-Love-ebook/dp/B00IRKQ08Q/ref=sr_1_1?s=digital-text&ie=UTF8&qid=1405415295&sr=1-1&keywords=dare+to+surrender+carly+phillips
BARNES AND NOBLE: http://www.barnesandnoble.com/w/dare-to-surrender-carly-phillips/1119939834?ean=9780989982436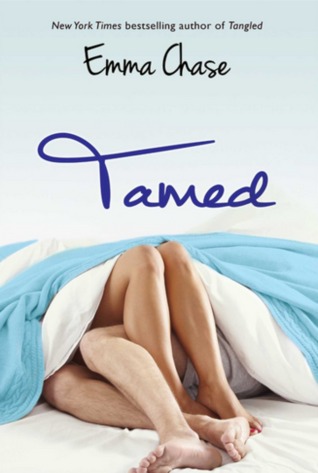 Stop me if you've heard this one before: girl meets player, they fall in love, player changes his ways.
It's a good story. But it's not our story. Ours is a lot more colorful.
When I met Dee I knew right away that she was special. When she met me, she thought I was anything but special—I was exactly like every other guy who'd screwed her over and let her down. It took some time to convince her otherwise, but turns out I can make a convincing argument when sex is at stake.
You might know where this story's headed. But the best part isn't where we ended up.
It's how we got there.
BUY LINKS
AMAZON: http://www.amazon.com/Tamed-Tangled-Book-Emma-Chase-ebook/dp/B00EB9ZA7O/ref=sr_1_1?s=digital-text&ie=UTF8&qid=1405415575&sr=1-1&keywords=TAMED+EMMA+CHASE
BARNES AND NOBLE: http://www.barnesandnoble.com/w/tamed-emma-chase/1116310539?ean=9781476763606
For Lorelei Warner, being perfect isn't everything it's cracked up to be. She did what her straitlaced parents wanted: became a lawyer, married her college boyfriend. But since her husband ran off with another man and her career became a nonstop bore-fest, Lorelei has turned to her best friends and Fool Me Once Investigations to find fulfillment and adventure.
When a routine subpoena-delivery turns up a dead body, Lorelei knows that solving the murder is exactly what she needs to boost her confidence…until private investigator Dallas Osborne walks in and takes over the case. Dallas has always rubbed Lorelei the wrong way. It's aggravating enough that he's a pompous ass, but he's also entirely too good-looking.
If she wants to catch the killer, Lorelei will need to loosen up and defy her parents—not to mention the law. And she'll need to partner with Dallas, working closer (much closer) to the sexy investigator than she ever expected.
Join the feisty Fool Me Once ladies for another fun-loving romp from bestselling author Tara Sivec.
BUY LINKS
AMAZON: http://www.amazon.com/Shame-Him-Fool-Me-Once-ebook/dp/B00HRIDFVY/ref=sr_1_1?s=digital-text&ie=UTF8&qid=1405415752&sr=1-1&keywords=SHAME+ON+HIM
BARNES AND NOBLE: http://www.barnesandnoble.com/w/shame-on-him-tara-sivec/1118708583?ean=9781477823217
Ethan Frost returns in the breathtaking conclusion to New York Times and USA Today bestselling author Tracy Wolff's seductive novel Ruined—perfect for fans of Release Me and Bared to You.
As Chloe Girard discovers, there's love . . . and then there's addiction.
Ethan Frost is everything a woman could want in a man. He's rich, gorgeous, powerful, one of the most eligible bachelors in the world.
But that's not why I'm with him.
I love Ethan for all the things no one else gets to see: his innate kindness, his reckless spontaneity, his unwavering determination to use his brilliance for good. I love the way he looks at me, the way he touches me. The way he makes me forget the wreckage of my past and the twisted fear that still lives inside me.
But sometimes it terrifies me how much I crave him, how much I need him just to breathe. I always thought it would be my past that ruined us, but there's a darkness in Ethan I never dreamed existed. Can we survive as his secrets surface—threatening to unravel us both?
BUY LINKS
AMAZON: http://www.amazon.com/Addicted-Ethan-Frost-Loveswept-Romance-ebook/dp/B00IHMEBR6/ref=sr_1_1?s=digital-text&ie=UTF8&qid=1405415897&sr=1-1&keywords=ADDICTED+TRACY+WOLFF
BARNES AND NOBLE: http://www.barnesandnoble.com/w/addicted-tracy-wolff/1118636172?ean=9780553394382