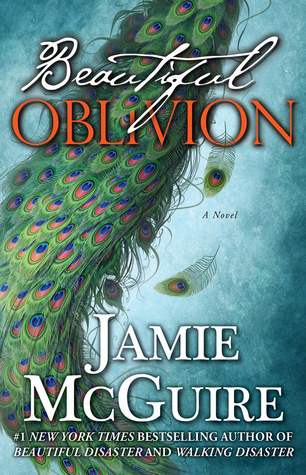 The Beautiful Disaster and Walking Disaster phenomenon continues in the first heart-pounding new adult romance in The Maddox Brothers series.
Fiercely independent Camille "Cami" Camlin gladly moved on from her childhood before it was over. She has held down a job since before she could drive, and moved into her own apartment after her freshman year of college. Now tending bar at The Red Door, Cami doesn't have time for much else besides work and classes, until a trip to see her boyfriend is cancelled, leaving her with a first weekend off in almost a year.
Trenton Maddox was the king of Eastern State University, dating co-eds before he even graduated high school. His friends wanted to be him, and women wanted to tame him, but after a tragic accident turned his world upside down, Trenton leaves campus to come to grips with the crushing guilt.
Eighteen months later, Trenton is living at home with his widower father, and works full-time at a local tattoo parlor to help with the bills. Just when he thinks his life is returning to normal, he notices Cami sitting alone at a table at The Red.
As the baby sister of four rowdy brothers, Cami believes she'll have no problem keeping her new friendship with Trenton Maddox strictly platonic. But when a Maddox boy falls in love, he loves forever—even if she is the only reason their already broken family could fall apart.
In the first installment of the Maddox Brothers books, readers can experience the rush of reading Beautiful Disaster for the first time, all over again.
BUY LINKS
AMAZON: http://www.amazon.com/Beautiful-Oblivion-Novel-Maddox-Brothers-ebook/dp/B00IBHSB8M/ref=tmm_kin_swatch_0?_encoding=UTF8&sr=8-1&qid=1404211485
BARNES AND NOBLE: http://www.barnesandnoble.com/w/beautiful-oblivion-jamie-mcguire/1118600536?ean=9781476759586
Twenty-three year old, Kamryn Cunningham has left all she's ever known and moved to a small town where no one knows her name, who her parents are, or her social status in the horseracing world. Months after opening her own bakery and evading attempts of being set up by her new best friend, she meets Brody. Kamryn fights the instant pull between them because there's a detail she can't dismiss. Brody's married.
To say that twenty-six year old, Brody Saco has had a rough marriage would be an understatement. After marrying his pregnant girlfriend, he spends the next six years in a relationship filled with hatred, manipulation and guilt involving a tragedy that happened five years earlier. When he keeps running into his sister-in-law's best friend, Kamryn, he can't ignore that she makes him feel more with just one look than his wife ever has; and soon he can't continue fight his feelings for her.
When staying apart proves to be too difficult, Brody and Kamryn enter a relationship full of stolen moments and nights that end too soon while they wait for Brody to file for divorce. But the guilt that comes with their relationship may prove to be too much for Kamryn, and Brody might not be strong enough to face the tragedy from his past in order to leave his conniving wife
BUY LINKS
AMAZON: http://www.amazon.com/Sharing-You-Novel-Molly-McAdams/dp/0062299409/ref=sr_1_1?ie=UTF8&qid=1404211651&sr=8-1&keywords=SHARING+YOU
BARNES AND NOBLE: http://www.barnesandnoble.com/w/sharing-you-molly-mcadams/1117053707?ean=9780062299406
For Lorelei Warner, being perfect isn't everything it's cracked up to be. She did what her straitlaced parents wanted: became a lawyer, married her college boyfriend. But since her husband ran off with another man and her career became a nonstop bore-fest, Lorelei has turned to her best friends and Fool Me Once Investigations to find fulfillment and adventure.
When a routine subpoena-delivery turns up a dead body, Lorelei knows that solving the murder is exactly what she needs to boost her confidence…until private investigator Dallas Osborne walks in and takes over the case. Dallas has always rubbed Lorelei the wrong way. It's aggravating enough that he's a pompous ass, but he's also entirely too good-looking.
If she wants to catch the killer, Lorelei will need to loosen up and defy her parents—not to mention the law. And she'll need to partner with Dallas, working closer (much closer) to the sexy investigator than she ever expected.
Join the feisty Fool Me Once ladies for another fun-loving romp from bestselling author Tara Sivec
BUY LINKS
AMAZON: http://www.amazon.com/Shame-Him-Fool-Me-Once/dp/1477823212/ref=sr_1_1?ie=UTF8&qid=1404211754&sr=8-1&keywords=SHAME+ON+HIM
BARNES AND NOBLE: http://www.barnesandnoble.com/w/shame-on-him-tara-sivec/1118708583?ean=9781477823217
In Robin York's provocative new novel, two young ex-lovers find themselves together again in the shadow of tragedy—and an intense, undeniable attraction.
Caroline still dreams about West. His warm skin, his taut muscles, his hand sliding down her stomach. Then she wakes up and she's back to reality: West is gone. And before he left, he broke her heart.
Then, out of the blue, West calls in crisis. A tragedy has hit his family—a family that's already a fractured mess. Caroline knows what she has to do. Without discussion, without stopping to think, she's on a plane, flying to his side to support him in any way he needs.
They're together again, but things are totally different. West looks edgy, angry at the world. Caroline doesn't fit in. She should be back in Iowa, finalizing her civil suit against the ex-boyfriend who posted their explicit pictures on a revenge porn website. But here she is. Deeply into West, wrapped up in him, in love with him. Still.
They fought the odds once. Losing each other was hard. But finding their way back to each other couldn't be harder
BUY LINKS:
AMAZON: ]http://www.amazon.com/Harder-A-Novel-Caroline-West/dp/0804177031/ref=sr_1_1?ie=UTF8&qid=1404211852&sr=8-1&keywords=HARDER+ROBIN+YORK
BARNES AND NOBLE: http://www.barnesandnoble.com/w/harder-robin-york/1117057577?ean=9780804177030
Lyla Summers hates men. Okay, maybe hate is a strong word … Lyla intensely dislikes men.
Her father has let her down her whole life. Her brother betrayed her in the worst way possible. And her past relationship experiences with men have been less than great.
Lyla is focussing all her energy into her band, Vintage, so when they receive an offer to sign with TMS Records, it seems that things are finally turning around for her. The last thing she wants is a man getting in the way.
Tom Carter loves women. Okay, love might be pushing it … Tom enjoys screwing lots of women.
When tragedy befalls his best friend, Tom finds himself making a promise to the big man upstairs – he'll change his ways, if he saves the woman his best friend loves.
Tom's prayer is answered. Now he has to change. Which means no sleeping around.
After Vintage's manager breaks her leg skiing, Tom steps in as tour manager, and Lyla finds herself on tour with the man whore of rock.
Put one perpetually horny Tom and one sex resistant Lyla together, equals a recipe for disaster. Or so you'd think…
But an unexpected friendship is formed. A closeness neither of them expected. Putting one chastity belt and one lamp that is in desperate need of rubbing, to the test.
Will the sex storm that is Tom Carter, finally find himself tamed by the rock chick with a hardened heart, or will he go back to his womanizing ways…?
BUY LINKS
AMAZON: http://www.amazon.com/Taming-Storm-The-Series-Volume/dp/1499324855/ref=sr_1_1?ie=UTF8&qid=1404211952&sr=8-1&keywords=TAMING+THE+STORM
BARNES AND NOBLE: http://www.barnesandnoble.com/w/taming-the-storm-samantha-towle/1119315933?ean=9781499324853
Tess Martin finally feels she has it all. She's engaged to her sexy Brit boyfriend Ben Mitchell. Then she is offered the job opportunity of a lifetime, when requested by a hot new sexy rock star to go on tour with him as his lead photographer, how could she refuse? One catch, Ben doesn't get to join in.
When being forced apart, can their newly found trust be enough? Who is this up and coming sexy rocker and what's up with him and Tess? And when they think they've been through enough pain, will tragedy strike again?
Ben has his own issues with his cheating ex and now his best mate acting strange and distant. Not to mention his baby sister, Caroline's attempted suicide and Ben wants to know, who or what is to blame?
When your life has been full of liars and backstabbers, who can you trust especially when you're in the public eye…
You never know who could be watching
BUY LINKS
AMAZON:http://www.amazon.com/Private-Affair-Book-3-ebook/dp/B00LF115XE/ref=sr_1_3?ie=UTF8&qid=1404212044&sr=8-3&keywords=DANIELLE+TORELLA
BARNES AND NOBLE: LINKS NOT AVAILABLE YET
You have to go. I won't be able to control myself. I've wanted you so bad for so long and after I've been in the cage…I can't think straight." He gives a guttural groan and his fist clenches on my hip.
Primitive. Primal. His need speaks to me. I tighten my grip on his neck and rock up to kiss him. He takes over. His kiss is hard and demanding.
"Mine." His voice is raw, savage and for a moment I truly believe he may lose control.
He rules in the ring
Two years ago, Jake and Amanda were going hot and heavy. But when Jake wanted more, Amanda walked away. Jake immersed himself in mixed martial arts, living life on the edge. But that didn't dull the pain of Amanda's rejection-until a chance encounter throws them together.
A high-powered lawyer, Amanda was a no-strings-attached kind of girl. But two years after her breakup with Jake, she still hasn't found anyone who gets her heart pumping the way he did. And then he shows up in her boardroom, hot as sin and needing help…
But can he rule her heart?
Jake is darker, sexier, and impossible to resist. As their chemistry builds, Amanda's not sure if she can stay in control, or if she's finally willing to let him claim her body and soul.
BUY LINKS
AMAZON:http://www.amazon.com/Your-Corner-Redemption-Sarah-Castille/dp/1494501163/ref=sr_1_1?ie=UTF8&qid=1404212156&sr=8-1&keywords=IN+YOUR+CORNER
BARNES AND NOBLE: http://www.barnesandnoble.com/w/in-your-corner-sarah-castille/1116882625?ean=9781402296239